Dear guest
we offer you an opportunity to spend a relaxing holiday in touch with nature at our guesthouse in the middle of the mountains of Nationalpark Hohe Tauern. We are eager to arrange your stay as beautiful as possible and offer you a lot of comfort.
Get a picture of our house, come as a guest and leave as a friend. We're looking forward to welcome you at our place.
The Lesacher Family
About the Sagritzerwirt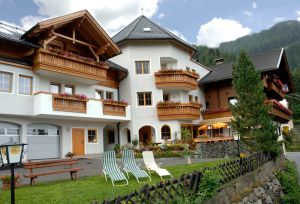 The Sagritzerwirt is a family driven guesthouse with rural character with a sunny and quiet view in the mountain village Sagritz (Großglockner area, Nationalpark Hohe Tauern).
You can spend your holidays with a homey, familial atmosphere in a modern guesthouse.
During the summer you get benefited road charge at the "Großglockner Hochalpenstraße".
We continue to develop ourselves
Recently we invested into three new highly comfortable Appartments build of wood, a Bio-salt-sauna integrated into a rustic wellness area.
We are well aware that our guests want to check their E-Mails or handle some of their work briefly. That's why all our rooms provide internet access.
To offer you lots of information and a range of products during your stay in the Nationalpark Hohe Tauern we educate ourselves all the time. For example, we are an accredited "TauernAlpin" partner.